SIMPLY SAID
We are a Spanish firm working on a vocation to unite craftsmanship and design technology to create handmade dress shoes of the highest quality that adapt to the requirements and tastes of each and every client, guaranteeing the utmost style and comfort.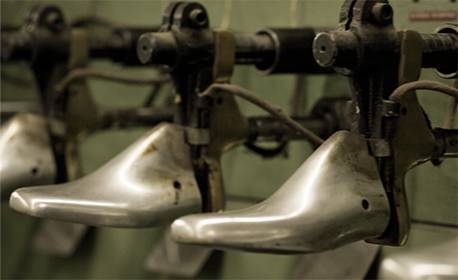 OUR SKILLED CRAFTSMEN
Glent shoes are entirely made at our workshop in the north of Spain where our master craftsmen have been passing down the skills of hand making shoes to measure since 1899. We abide by strict guidelines on quality at every stage of the shoemaking process which includes Goodyear stitching, a technique which only a few Spanish shoemakers preserve these days.

The design technology we use in Glent to custom make shoes was exclusively developed for us by INESCOP (The Technological Institute for Footwear & Related Industries), a globally acknowledged expert in the field of feet measure and analysis.
We have also worked with the best mold makers in Spain to create our own lasts which are available in a wide range of shoe sizes and half sizes, widths and insteps to guarantee maximum comfort for all our models.
Although our design is Spanish we have been inspired by classic shoe styles from late 19th century Paris, London and Vienna, to which Glent has added its own mark.
Glent's flagship store in Madrid was designed by the prestigious team of interior designers from Consultora Creativa Cul de Sac in Valencia.
In partnership with ENISA, the Spanish Ministry of Industry, Energy and Tourism.