GLENT'S TECHNOLOGY
Glent, together with Spanish R&D partner INESCOP (The Technological Institute for Footwear and Related Industries) has developed two proprietary shoe design software programs to ensure a genuinely personalized men´s shoe shopping experience.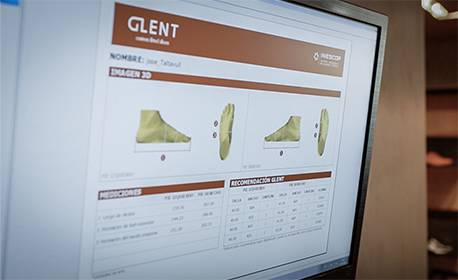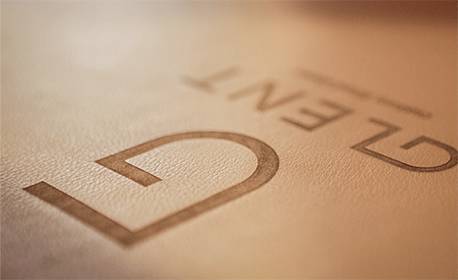 Our 3D foot scanner is located in-store and allows us to carefully measure your feet separately and provide an accurate report on size and shape so as to find the perfect match and fit. Maximum comfort is guaranteed for each foot INDIVIDUALLY based upon the accurate measurements taken of size, width and instep.
Basing our research on a database of standard shoe molds for the majority of the population, we worked with master Spanish shoe lasts makers to develop molds that would guarantee a fit with our shoes and ensure complete comfort for the end user.
We have four in-house mold designs upon which we have developed 18 different models of shoes. Each mold is available from size 37 to 52 including half-sizes. We offer up to six widths and three instep arches. There are over 300 possible combinations of measurements available for each model. We offer advice based on information gained from the 3D scan made of each of your feet so as to find the best men's dress shoes for you. We have a fully-trained chartered podiatrist working with us at the flagship store whose role is to provide specific advice on which mold best suits the measurements of your feet. We are able to fit our shoes with insoles that carry out special functions and depending on the mold chosen, on occasion, we can add chiropodist insoles.

Design lay-out application
Glent has created a free app which allows you to design your men's handmade shoes on the spot, whenever and wherever you are. Furthermore we have tablets to use this app with clients who prefer to receive design recommendations or advice in-store.
We offer countless style combinations ranging from 15 types and 50 colors of leather, some of which can be combined in one shoe, as well as choices of 12 types of soles, 17 thread colors and 15 colors of laces. We offer several lining colors and the option to engrave your name or initials on the inside of the shoe.
The end result of these choices isn't merely a pair of Glent shoes, rather, these choices lead our clients to a unique pair of handmade shoes that are, in fact, made to order shoes.