Deliveries and Returns
1. DELIVERIES
We offer free delivery with any order over €180 to mainland Spain. Deliveries to the Spanish islands are subject to an additional charge of €25. The cost of delivery to international destinations will depend on the geographical region of the delivery destination and the number of items to be delivered.
The cost of delivery to the Canary Islands, Ceuta and Melilla do not include the applicable purchase taxes. Items sold on the Glent website and selected for delivery to countries outside the European Union may be subject to taxes, customs duties and tariffs imposed by the destination country (import duties). The addressee of the delivery is the nominal importer in the destination country and responsible for paying all import duties. Glent Shoes will not pay or assume liability for any cost, tariff, export duty or similar.
The delivery policy, costs and delivery times for our products based on the corresponding geographical region is as follows: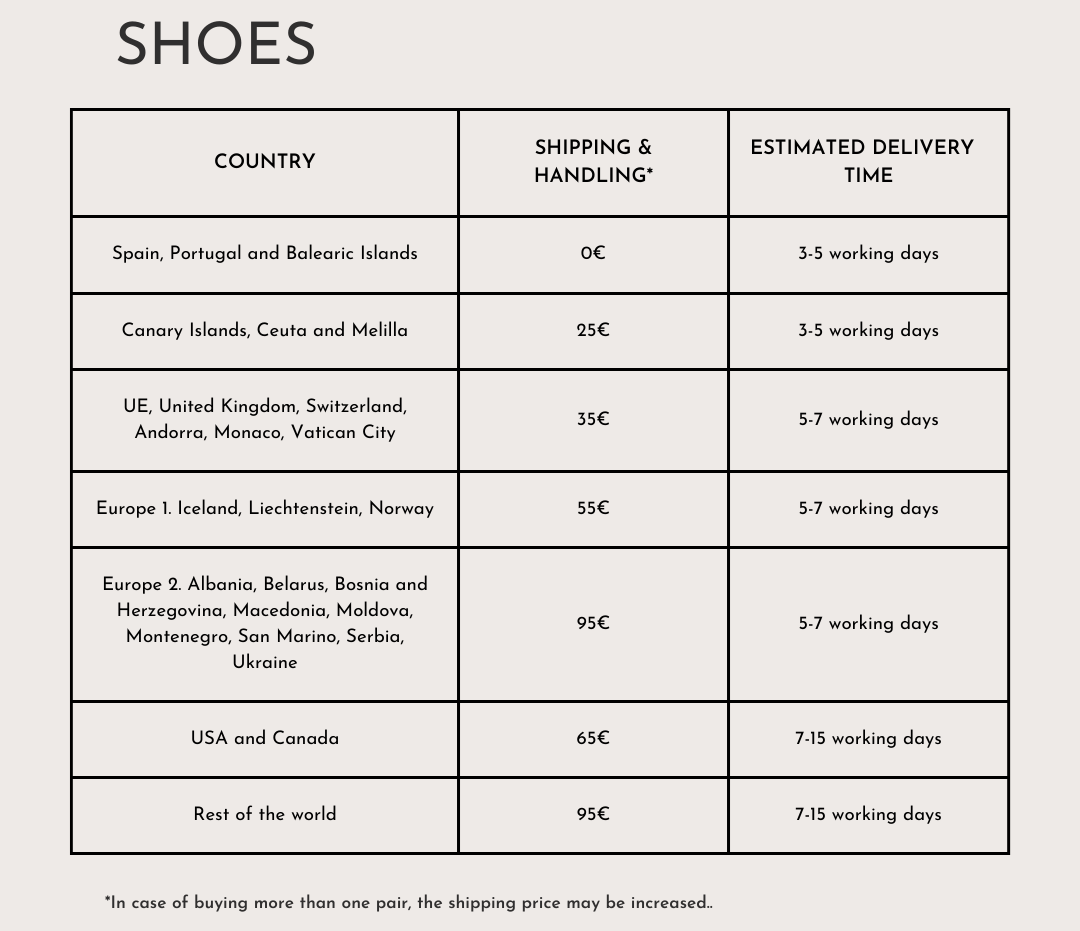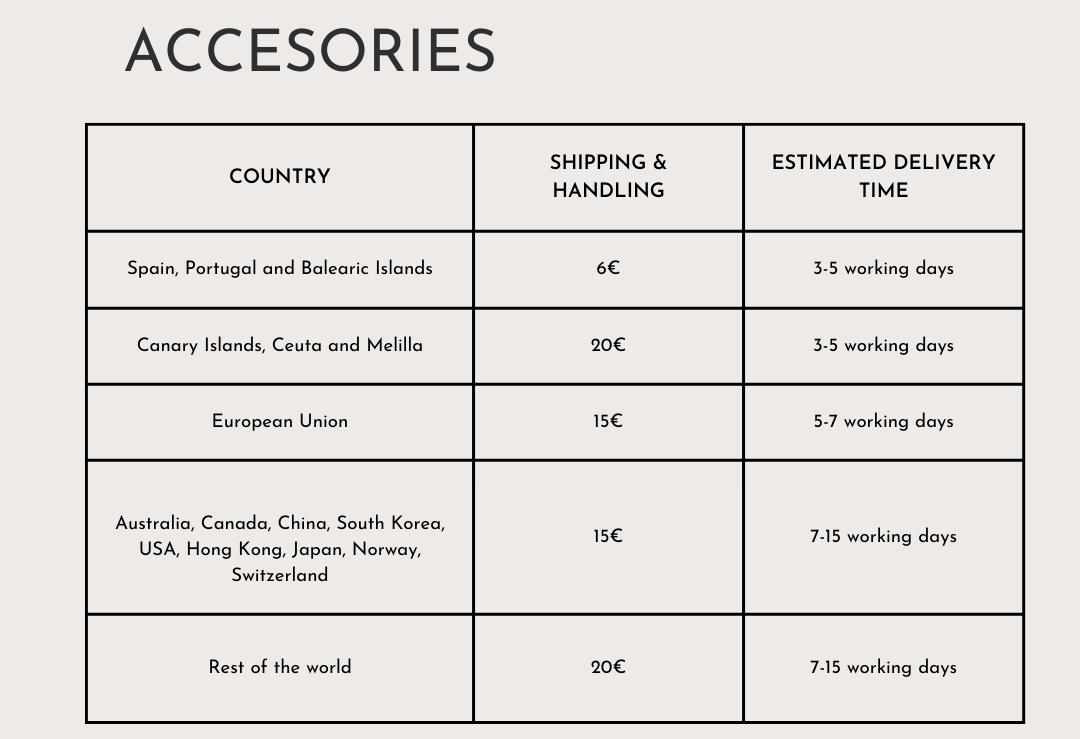 DELIVERIES OF EXOTIC LEATHERS
Orders containing exotic leathers (lizard, alligator, crocodile, iguana, ostrich or eel) will be accompanied by a certificate issued by the Ministry on the traceability of these leathers.
This certificate is only necessary for the export of exotic leathers outside of the European Union.
The Spanish authorities issue these official certificates (CITES) and delivery in such cases may be subject to a delay of between 7 and 14 days.
2. DELIVERY TIMES
When the item is in stock, the transport agencies with which we operate estimate a delivery time of between 3 and 5 days. This may be extended to up to 15 days during such holiday periods as Christmas, Easter and the summer. Glent accepts no liability for strikes, closures, stoppages or labour disputes in the activity of third parties. The delivery time for tailor-made products is approximately six weeks from the moment you place your order. Delivery times for international deliveries will vary based on the geographic region. International orders may be subject to customs clearance procedures and processes, which could delay delivery of the package and compliance with the estimated delivery time.
Transport agencies will notify the customer regarding the availability of the package for delivery a maximum of two times. If the customer cannot be contacted, the package will be returned and the customer will need to pay for re-shipment.
TRACKING MY ORDER
As soon as the order leaves our factory or warehouse, you will receive an automatic e-mail with an order tracking number. You will also receive updates regarding the status of your order, scheduled delivery date and package location.
3. AVAILABLE PAYMENT METHODS
We accept the following payment methods: Visa, Mastercard, American Express, PayPal and bank transfer. Payment data are sent using encrypted SSL methods. Only CES (Secure e-Commerce) transactions will be accepted for payment with Visa and Mastercard. After verifying that the card is part of the CES system, our system will contact the issuing bank for the buyer to authorise the purchase. Once the bank has confirmed authenticity, the card will be charged. Otherwise, the order will be cancelled. Glent Shoes S.L. does not capture and, therefore, does not store such data as the card number, expiry date, CCV code or the suchlike. The payment system is provided by Banco Bilbao Vizcaya Argentaria (BBVA) via a payment gateway.
4. ORDER TERMS AND CONDITIONS
You may place your order via this website or, for tailor-made shoes, by telephone on (+34) 913 895 887 from Monday to Friday between 10:30 and 19:00 and on Saturdays between 10:30 and 14:00.
For each product selected on the glentshoes.com website, a summary page will be displayed with a photograph of the item, its colour and references, the selected quantity, its unit price and the total price of your order. You should check that this information precisely reflects your selection before confirming your order. Following confirmation, your order will be sent for processing.
The order represents an offer to purchase the Goods specified in your order under these terms and conditions of sale. All orders are subject to acceptance by Glent Shoes. We will only accept an order after verifying that the Goods are in stock, in optimum condition and we have received authorisation to process your payment for the Goods. When Glent Shoes accepts your order, we will confirm acceptance by e-mail. This e-mail is referred to as our "Order acceptance". It should be noted that any orders placed via the website outside of our normal working hours (Monday to Friday from 10:30 to 19:00 and Saturdays from 10:30 to 14:00) or on public holidays will not be processed until the next working day. Working days are understood to mean those as defined by Madrid City Council.
Although every effort is made to ensure that the colours, design and style of the Glent Shoes products shown in the photographs on the glentshoes.com website are representative of the original products, variations may occur due to technical colour reproduction restrictions on your device (mobile, computer or tablet). For tailor-made products, the shoe images displayed in the configuration tool that enables customisation of the shoes to be selected is a render that reflects the various specifications chosen by the customer and that will make up the shoe ordered. Although this render is very similar to the end product, it is not a photograph thereof.
Glent Shoes reserves the right to refuse or cancel your order based on our own criteria for any reason and without liability if, among other reasons, the products are not available, have an incorrect price or are described incorrectly. If payment has already been made, Glent will provide a refund. As a result, Glent Shoes accepts no liability for any error or inaccuracy in the photographs or graphical representations of the products shown on the website. If you have any questions about our products, please contact our Customer Service Department ((+34) 913 895 887).
Glent Shoes reserves the right to cancel any order placed by a customer with which it has an ongoing dispute regarding a previous order or if Glent Shoes has reasonable grounds to suspect that said customer has violated these Terms and Conditions of Sale or is involved in any fraudulent activity or for any other legitimate reason.
5. RETURNS AND EXCHANGE POLICY
You can return your order and obtain a refund at any time within 30 days after the date on which you received your original order. If you wish to return your order, you must send an e-mail to pedidos@glentshoes.com with the following information:
Customer name
Order number
Date of purchase
E-mail address
Delivery address
Unfortunately, we cannot accept any returns beyond this period.
All products must be returned unmarked and in the original box, in good condition and with all other accessories that may have been delivered (e.g. fabric bag, labels, etc.). If the item is not returned in the correct condition or beyond the 30-day deadline, we will be forced to refuse the exchange or refund. The payment of refunds will take at least 10 days.
COST OF RETURNS
For returns within mainland Spain, Glent pays for the delivery and one initial return or exchange of the first pair of shoes. If a second return or the exchange of more pairs is requested, the customer must pay €8 by PayPal.
For the Spanish islands, the customer pays the cost of delivery and this includes the first return or exchange. If a second return or exchange is requested, the customer must pay €14 by PayPal.
For deliveries to Europe and the rest of the world, the customer pays for delivery (costs may vary based on the destination country) and this includes the first return or exchange. If a second return or exchange is requested, the customer must pay for this according to the fees indicated in our delivery price list via a PayPal payment request.
How can I find out if my returned item has arrived?
Once we receive your package at our warehouse, we will check that everything is correct and send you an e-mail with confirmation of receipt.
When will I receive my exchange or refund?
When we receive your returned order at our warehouse, we will check the condition of the item and process authorisation for exchange or refund as quickly as possible. You will be kept informed. We will issue any refund via the same method as that used for the original payment. For exchanges, we will need between 2 and 5 days to process the new delivery.
If you have any questions about size changes, exchanges or returns in general, you can call (+34) 913 895 887 from Monday to Friday between 10:30 and 19:00 and on Saturdays between 10:30 and 14:00. If you prefer, a chat tool is available on the website from Monday to Friday between 09:00 and 14:30.
Can I return any product?
No. The following items cannot be returned:
Socks
Shoelaces
Cleaning products
Customised and/or tailor-made shoes
Any product that has been modified to meet a customer request
Any used item
At Glent, we are proud of the quality of our materials and the manufacturing process for all our items. However, mistakes can occur and we will respond to such situations to the same standard of quality as we apply to our products: if you encounter a manufacturing or material defect, you can return the shoes within three (3) years and we will repair them for free or make a new pair. Refunds will not be provided unless it is impossible to provide a replacement product of identical characteristics.
FLAWS OR DEFECTS:
If you encounter a flaw or defect in the materials or manufacturing process, you should contact GLENT SHOES by writing an e-mail to info@glentshoes.com. We will tell you how to send the product back to the company for review and inspection. If we confirm the defect, we will send you another product of identical characteristics.
If the company considers that the problem stems for improper use, we will notify you of this and return the item to you. If you disagree, you may fill out a claims and complaints form and contact the European dispute resolution system here.
6. COMPLAINTS, SUGGESTIONS OR CLAIMS
Quality, excellence and customer service are major characteristics of our organisation. For any complaint, suggestion or claim, customers can contact us by calling (+34) 913 895 887, by visiting us at our store at Calle de Claudio Coello, 21, 28001 Madrid or by sending us an e-mail to info@glentshoes.com. We will duly respond to any correspondence we receive.