1. Delivery Conditions
1. Deliveries
Please find below an outline of our delivery methods and policy, along with prices: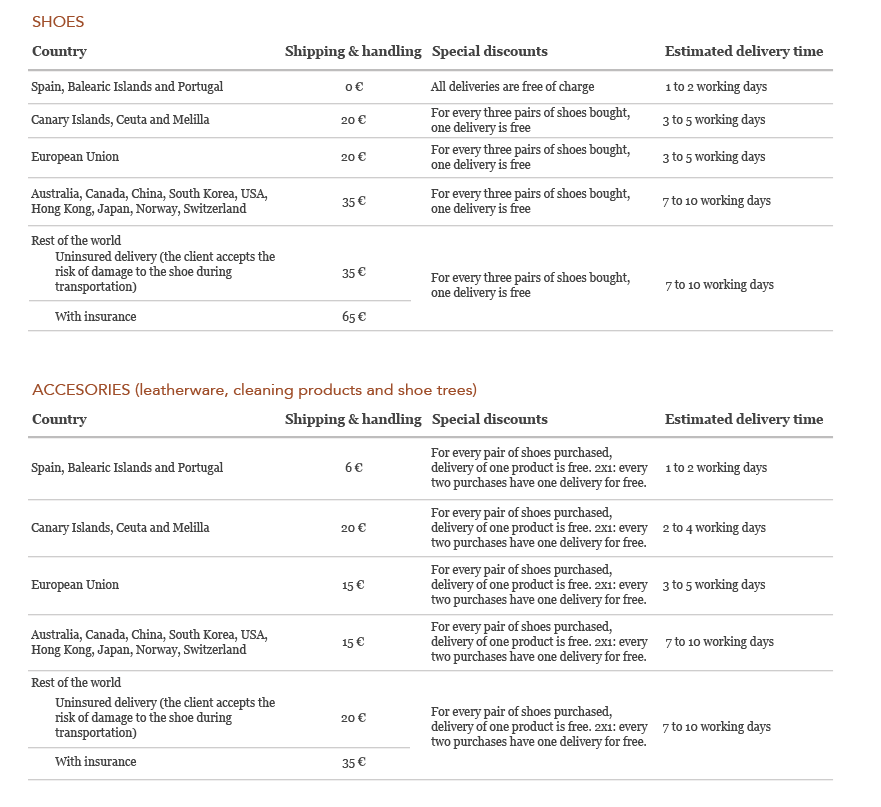 Prices quoted for the Canary Islands, Ceuta and Melilla do not include taxes.
The above deliverytimes are estimates. The time may increase by a day or two if delivery is to a remote area or if delivery is over a bank holiday. Purchases for delivery abroad may be subject to Customs and Excise which could delay shipping and mean that delivery is not completed in the estimated time.
Items sold on Glent's webpage for delivery outside of the European Union could be subject to importation tax or duty in the receiving country. The addressee is considered to be the person importing items from abroad and is thus responsible for all paperwork arising from importation.
2. Delivery time
The delivery time for a pair of shoes is approximately four weeks after the order has been made, except for unusual and unavoidable circumstances. This time may be increased during vacation periods such as Christmas or Easter.
If you order a pair of shoes from our on-line store please bear in mind shipping and handling times which vary depending on the final destination.
3. Payment Options
We offer various means of payment: Visa, Mastercard, American Express, Paypal and bank transfer.
All transactions are SSL encrypted. Visa and Mastercard payments use a verified purchase system with an automatic protocol that ensures the purchaser immediately authorizes the payment with his or her bank online. Payment by credit card is only made when the purchaser's bank expressly authorizes it. Glent Shoes SL does not retain or file credit card details, expiry dates or CCV codes. Our payee bank is Banco Bilbao Vizcaya Argentaria (BBVA).
4. Returns Policy
Glent provides made to order shoes individually for each client.
First class, long lasting and strong leather is used to make these shoes, meaning that it may take a few weeks for the shoes to stretch. Nevertheless we are confident that your shoes will soon feel like second skin. Furthermore, as we use Goodyear stitching that includes an insole layer of cork for extra cushioning, our shoes are very comfortable.
GENERAL RETURNS POLICY
At Glent we pride ourselves on the quality of material used in making our products. However, we know that occasionally errors can happen, in which case we hold ourselves fully responsible for the quality of our products: if there has been a manufacturing or material error the shoes can be returned within two weeks in their original box and they will be repaired or a new pair of shoes will be made. We only accept unused returned items. A refund will not be made unless the defect is such that it cannot be repaired or substituted with another identical item.
No refunds or returns of custom products are made.
All shoes must be returned in a pristine condition and in their original box with the silk bag and other delivery packaging, as these are all considered to be part of the product. Shoes that are returned in a damaged box or that have been used may be refused by Glent and returned to the client. This is why we advise clients to test the shoes on a carpet or mat.
Notwithstanding the above, please be informed that our items hold a one-year guarantee for manufacturing faults.
Accessories bought at Glent are subject to the same general returns policy, although if the accessories purchased are not personalized or the purchase has not been made on-line, clients may be offered a gift voucher in exchange for the returned item. Although the gift voucher will not expire, please note that itwill be individual and non transferrable.
To return any item a client should contact our store in Claudio Coello 21, 28001 Madrid or send us an e-mail at info@glentshoes.com and we will handle the return.
IMPORTANT NOTICE CONCERNING THE IMAGE SHOWN ON THE WEB
It must be born in mind that the images of shoes shown during the process of personally designing a shoe online are rendered images that reflect individual specifications that have been chosen by the client and will be applied to the shoe that they order. Although a rendered image is very similar to the final product, it is not a photograph. When the client makes the purchase he or she is informed about and accept this.
5. Complaints, concerns and suggestions
Quality, customer service and attention to detail are key characteristics of our organization. Please contact us with any complaint, claim or suggestion by telephone: 91 431 5581, or by post to our store in Claudio Coello 21, 28001 Madrid or send us an e-mail at info@glentshoes.com where your message will be dealt with promptly.