NUEVA FLAGSHIP STORE GLENT
CLAUDIO COELLO 21, MADRID
Glent Shoes se enorgullece en anunciar el traslado de su flagship store a un espacio más grande y pensado especialmente para seguir mejorando la experiencia de compra. Ubicado en el corazón del barrio Salamanca, este nuevo espacio de 200 metros cuadrados nos ayudará a seguir creciendo y así mantener nuestro compromiso de ofrecer un servicio único.
Queremos mejorar la experiencia Glent y darle a nuestros clientes la opción de interactuar con nuestro universo del calzado hecho a medida y personalizado: podrá ver, tocar y comparar cada una de las piezas y elementos que usamos para su construcción. Tan pronto llegue a la tienda, nuestros expertos asesores lo guiarán a través de las dos áreas de exhibición de calzado Glent. La primera, incorpora la zona de medición con el digitalizador 3D, la colección Essentials by Glent
y los exclusivos pares de inspiración de la colección 'Hecho a Medida'. Y la segunda sección, ha sido creada especialmente para guardar nuestro más selecto muestrario y para que el cliente pueda personalizar su calzado según sus propios gustos y preferencias, a través de nuestro configurador digital alojado en modernas tablets. Lo invitamos a conocer el auténtico mundo Glent Shoes, en este nuevo espacio concebido para que cada cliente se sienta único.
Our stores
Flagship Store
OPENING / STORE HOURS
From monday to thursday:
10.00 - 20.30h
Friday and saturday:
10.00 - 21.00h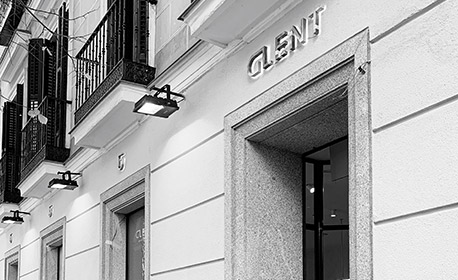 El Corte Inglés
ADDRESS
Centro Comercial Castellana. Calle de Raimundo Fernández Villaverde, 79. 28003 Madrid P2.
OPENING / STORE HOURS
Live the Glent experience
Pop in and meet us at our store or, if you prefer, make an appointment with one of our expert assistants so as to fully live the Glent shopping experience. No purchase required.
Podiatrist in store
Book an appointment